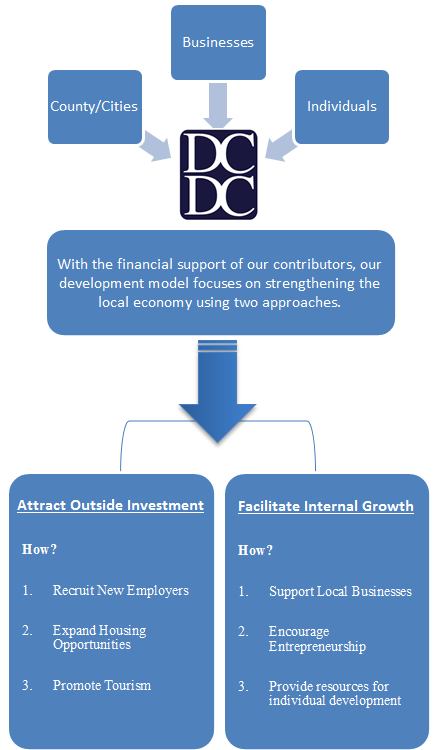 DCDC Economic Growth Model
The Decatur County Development Corporation approaches economic development using a specific model. This 'Economic Growth Model' derives its content from the Economic Base Theory and the Local-Multiplier Effect. Both of these subjects have roots in Keynesian-Economic thought.
The over-all goal of our efforts is to increase the tax-base in the county. An increase in the tax-base can come in the form of a higher population, more businesses, jobs, homes, or over-all increased foot traffic. A larger tax-base injects more outside dollars into the local-economy. When new money is injected into the county, a concept called the Local Multiplier Effect increases the county's economic wealth.
DCDC uses two approaches to increase the County's tax-base, which again, injects new money into the region, and strengthens the economy.
Facilitate Internal Growth
DCDC Facilitates Internal Growth by supporting local businesses, encouraging entrepreneurship, and providing resources for individual development, Decatur County has so many valuable resources and people. Often times, developers forget to look internally for solutions to economic growth. Working with the resources that are committed to the county is simply one of our main priorities.
2. Attract Outside Investment
DCDC Attracts Outside Investment by recruiting new employers, expanding housing opportunities, and promoting tourism. It is our role to provide the necessary resources to those who are considering re-locating or visiting. This too is a main priority. We want others to realize what we have realized: Decatur County is a great place to be.