SWCC Building and Trades Class Construction Project
Update on May 10, 2017, written by Keegan Bethards:
Decatur County Development Corporation's Spec House is On the Market!
We have insider information, ladies and gentlemen--the SWCC Spec house is on the market! The Decatur County Development Corporation is looking for a buyer of this nearly complete home on NW School Street. Let's learn a little more about Leon's newest real estate listing!
This home is located at 501 NW School Street (straight south of GRM Networks). This cozy home has 1,300 square feet of living space (not including garage) and sits on .13 acres. Some of the home's features include a study, master bedroom ensuite, first floor laundry, open kitchen and a dining room. For outdoor living space, this home boasts a front porch and back deck along with a walk out basement with an added storm shelter. A two-car attached garage, which has a paved drive, will make parking easy for the homeowner.
This home has been listed at $175,000 (which may vary based on home buyer customization).
For more information please contact:
Shannon Erb, Executive Director
Decatur County Development Corporation
207 N. Main Street
Leon, IA 50144
641-442-6511
dcdc@grm.net
The building and trades class had to postpone the beginning of this project at the beginning of the school year but is throwing the hammers to get this project complete! And moving along they are, drive by and check out the gorgeous color of Leon's newest home!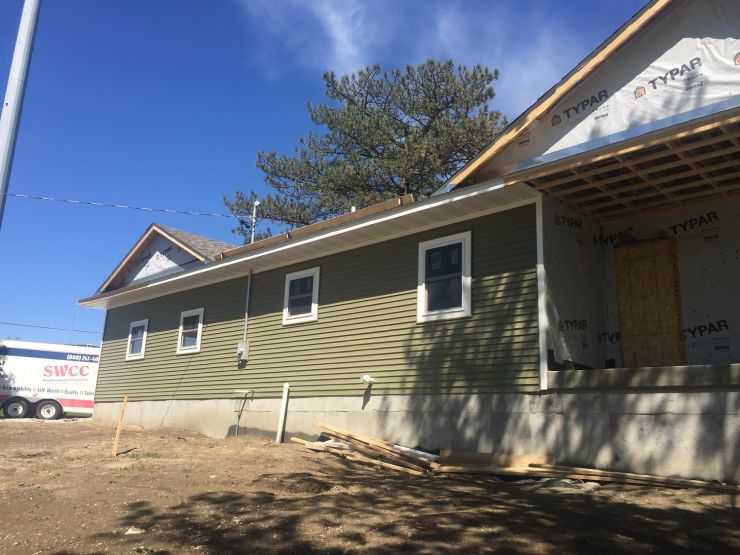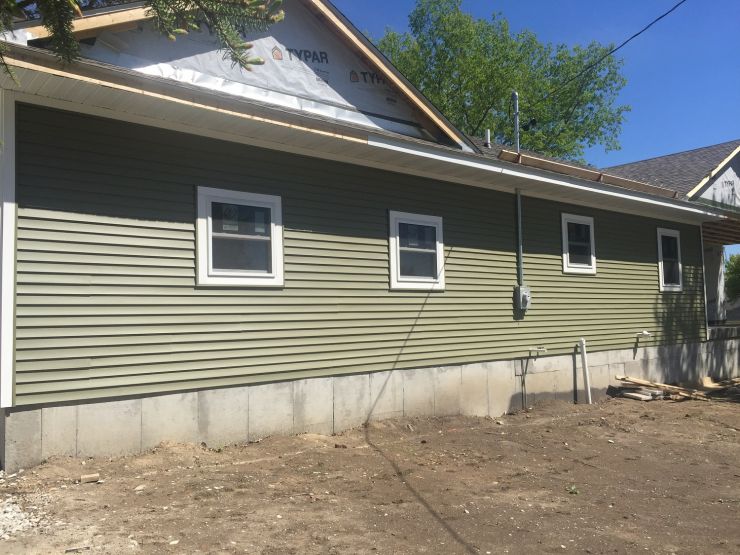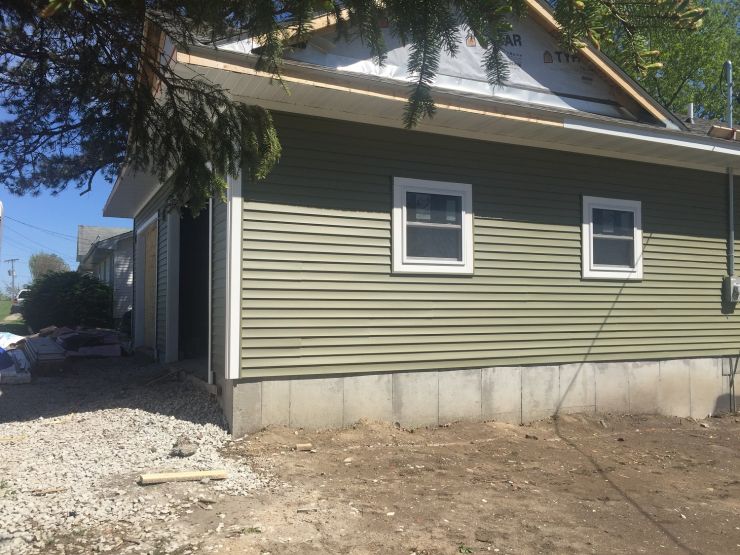 ---
Update on April 14, 2017, written by Keegan Bethards:
What do shingles, windows and electrical components all have in common? Well, they are ALL complete on CD's SWCC House! In addition to the progresses made there, siding has begun as well!
As we head towards the final stretch, let's catch up with some students and their new found house building skills!
From Jordan Miles, "My favorite part of construction is being able to be hands on learning and building a house from the ground up. I've learned basically how to build a whole house. And it's not all about working hard, [there's] laughing, telling stories, and all the mess ups that had to be redone."
"My favorite part would have to be Ron's [Mr. Ron Utley, instructor] stories. The most challenging part of building was probably the trusses, as they were a bit difficult. At the end of this class, I will have learned basic construction skills that will be helpful in the future," shares Dexter Hiebing.
Carter Anderson states, "With this class, I accidentally sawed a saw cord in half...the irony. I am excited to begin siding the house because siding is super 'ex-siding.' With this class, I have learned to make sure you get things done right the first time because there is not time to do it over again--which can apply to many things in life."
From sawing a saw cord in half to building trusses, this class has been able to experience it all. Drive by the home on NW 6th Street and the see the tremendous progress that has been made!
Stay tuned for construction updates!
---
Update on March 8th, 2017, written by Keegan Bethards:
And they continue to build! The SWCC house, being constructed by Central Decatur, Mount Ayr, and Clarke students, keeps moving along. When you drive by on NW 6th Street, you will notice the installation of dormers to the roofline, adding some definite curb appeal!
To recap the project to date, the Building Trades Class has put the walls & trusses up, roof sheeted, framing interior walls and working on the basement. Shingling is next on the agenda and the group is eager to get started with that one.
"I like the hands-on-experience available from this program. I have learned a lot about the different steps of putting the various structures of a house together," shares CD junior, Gunner Graham.
Stay tuned for more building updates!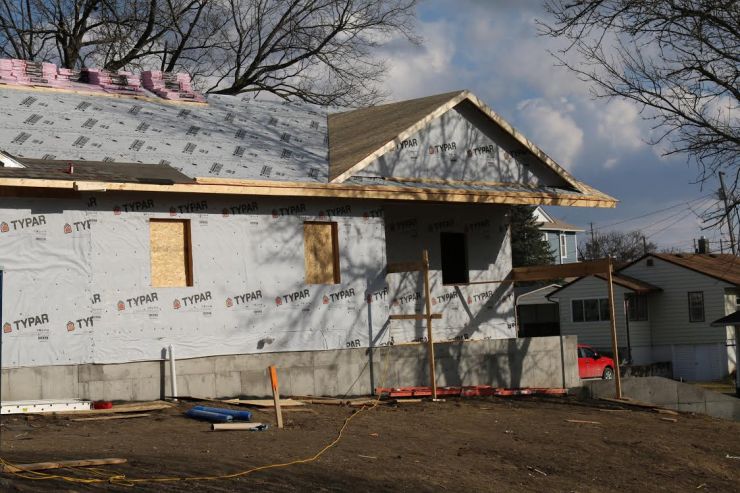 ---
Update on February 15, 2017, written by Keegan Bethards:
Take a drive down on NW 6th Street in Leon and you can take in the progress being made on the SWCC house being completed by Central Decatur, Mount Ayr, and Clarke students.
The house has been framed and wrapped. In addition, the walls and trusses have been put into place and the sheeting, along with the basement, is almost complete.
As one can see, this has been a worthwhile opportunity for students to take part in and there is a positive vibe from the students who have been helping with the pouring of cement and building walls. Students are able to observe big tasks, even when done by other professionals and therefore they are given a wide variety of work to learn about. Students have been able to see work from contractors including Lindsey Construction (Cement work) and DCLI (Dirt work) so far.
"With this class available to me, I have been able to learn how to build a partial house from the ground up. This experience has helped me in narrowing down a career for the future." states Kyle Potter.
Not of all the builders are rookies at this-5 CD boys signed up for this class a second time. Kyle Guill, Nathan Guill, Mickey Morgan, Rayden Boswell, and Lukas Meyer are the veterans when it comes to wielding the hammer.
"I have learned a lot and now know what all goes into building a home. I signed up for this again because it kept me interested and it is something I want to do in the future. It can be frustrating but that is the fun in it," shares Mickey Morgan.
"I would hope that students have the opportunity to get real world experience of building a house from start to finish. This is a great introduction to the skills they will need for a successful career in construction," comments Principal Rudy Evertsen.
This class is a little behind schedule but hopes to pick up tempo and begin the next assignment for this ongoing project.